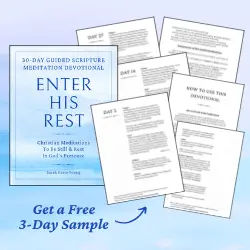 Free Sample: 3 Guided Christian Meditations
Do you want to renew your mind with God's Word? With Enter His Rest, a 30-day Scripture meditation devotional, you'll learn step-by-step how to meditate as a Christian, and transform your thoughts with biblical truth about the true rest we find in Jesus.
Be still and rest in God's presence with these 3 guided Christian meditations. You'll also get a discount code for the full devotional.